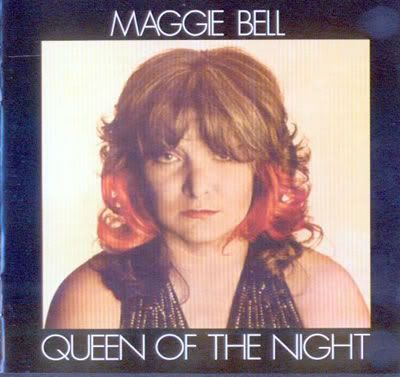 Исполнитель: Maggie Bell
Название альбома: Queen Of The Night
Год выпуска: 1974
Жанр: Blues-Rock
Битрейт: ape+cue+image
Размер: 259 mb (5% на восстановление)
Ссылка: narod.ru

Треклист:
01. Caddo Queen (Jennings/Troy/Williams)
02. A Woman Left Lonely (Oldham/Penn)
03. Souvenirs (Prine)
04. After Midnight (Cale)
05. Queen of the Night (Leahy)
06. Oh My My (Poncia/Starkey)
07. As the Years Go Passing By (Malone)
08. Yesterday's Music (Smith/Thomas)
09. We Had It All (Fritts/Seals)
10. The Other Side (Allen/Sager)
11. Trade Winds (McDonald/Salter)

Chuck Rainey - Bass
Maggie Bell - Vocals
Barry Goldberg - Keyboards
Ralph MacDonald - Percussion
The Sweet Inspirations - Vocals
Cornell Dupree - Guitar
Steve Gadd - Drums
John Hughey - Guitar (Steel)
Arthur Jenkins - Keyboards
Leon Pendarvis - Keyboards
William Salter - Bass
Richard Tee - Keyboards
Chris Welch - Liner Notes
Jerry Wexler - Producer
Reggie Young - Guitar

После распада Stone The Crows, Мэгги, подбадриваемая Питером Грантом, приняла решение начать сольную карьеру. Поначалу, дело пошло из рук вон плохо. Два альбома, записанных ею [один из них с участием Феликса Паппаларди (Felix Pappalardi) из MOUNTAIN, а второй с Феликсом Кавальери (Felix Cavaliere) из YOUNG RASCALS] так никогда и не увидели свет. Руководство компании признало их недостаточно хорошими, и Мэгги до сих пор разыскивает мастер-ленты с теми записями, в надежде выпустить их хотя бы с опозданием в тридцать с лишним лет.
В 1974 году вышел первый альбом под маркой "Maggie Bell". Продюсировал его Джерри Векслер (Jerry Wexler), известный своей работой с Ареттой Франклин (Aretha Franklin), из группы сопровождения которой, были "позаимствованы" инструменталисты для этого проекта. Пластинка получилась очень удачной. Сопродюсировал ее все тот же Питер Грант. Руководство компании очень волюнтаристски с ней обошлось: при отборе материала была рассмотрена лирика более двухсот песен, подготовленных в черновом варианте, и вообще, разговаривали с ней очень жестко. Но, к счастью, публике и критикам пластинка пришлась по вкусу.